Alice Bybee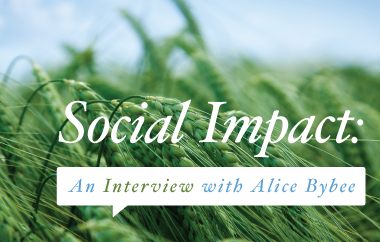 Alice Bybee remains a passionate advocate for non-profits and social responsibility since making the move from full-time do-gooder to graphic designer. She has worked, volunteered, and designed for various non-profits including The NAMES Project Foundation, East Bay Conservation Corps, de Young Museum, Trust for Public Land, The Marine Mammal Center, Boys and Girls Club of San Francisco, ecoAmerica, and AIGA San Francisco.

Alice established the social impact chair on the Board of Directors of AIGA San Francisco (AIGA SF) and has served as the social impact co-chair since 2006. In 2007, she and her co-chair created Cause/Affect, a biennial graphic design competition celebrating the work of designers and organizations that set out to positively impact our society. She now serves as the vice president of AIGA SF.
Alice received a BA in sociology from Brandeis University and a BFA in graphic design from the Academy of Art University. With over 10 years' experience in print, branding, packaging, and web, she is currently design director at Iron Creative in San Francisco.

Alice allowed me some time to interview her on her thoughts on creative work done for the public good. Here are her thoughts.

Q: What is your role as social impact chair?
A: I'll start with how I got there. Basically, I have been in design for 8 years now and before that I had worked in the non-profit sector so I had that connection of wanting to do non-profit work although I was no longer working directly with them. I went to the AIGA board and asked what, if anything, they were doing for non-profits. They didn't have that position on the board at that time, and suggested I figure something out.

Matt Cook, who is my co-chair; came from a similar background as I did, having worked in non-profits. We discussed what was going on with non-profit design in San Francisco, which was our first goal, at which point we were named co-chairs for social impact. We had heard of studios that design for non-profits pro bono or even at a discounted rate, and wanted to bring the community together. A lot of the time there are all these acolytes for good design but it's not actually about how effective the typography is, or how pretty it is, it wasn't even about how effective the message was. So we decided to do a design contest for "do gooders," so we termed it Cause/Affect and basically wanted to get together with other people who are doing the same kind of work. Actually, the design contest was an afterthought, as our ultimate goal was getting these people together and promoting that in the bay area. It turns out our little contest went international through word of mouth and now there's a bigger community that we are now trying to connect. We were on the board to make those contests happen, make those folks able to talk to each other to support each other. We were also working with non-profits in the bay area to see what sort of design they needed or how we can connect them with those resources.
Q: What are some memorable winning examples from this year's Cause/Affect?
A: Chen Design Associates' Peace 100 Hundred Ideas, was a memorable entry. It was something we've all seen and was self-motivated by their agency. Some of these projects didn't necessarily have any client but they looked for some non-profit or community agency to do work for because they had an urge to design for non-profits and didn't have a client coming for them to do that. There was an amazing student project, it was basically it was an experiential project call Do You Have Five Minutes?, and it was a woman who went to the Academy of Art here in San Francisco and she would go and stand in various places in San Francisco with this box and had this sign up, "Do you have five minutes?" She got a lot of strange looks of course, but her point was for people to actually take the time to read about whatever cause she wanted to talk about that day and stand in the box next to her. That was really cool.

Q: What is your philosophical standpoint regarding philanthropic work?
A: I feel like it's something that should be done. The non-profits live in a space where they're getting funding or they're trying to get funding, they're doing amazing work, and having worked in the non-profit field I know how hard it is to get the support and funding that you need to be doing the work. Then they need to talk to people about it and they walk a fine line. If their marketing pieces and design pieces look too good they run the risk of the funders wondering where their money is going. And then if they don't look good enough, people are going to be wondering why they are wasting their money because the agency isn't organized. They wonder if their money is going to get to the people it needs to get to because the agency can't produce a piece that gets their message out. Having been on both sides it's become a necessity to me to help in any way I can, non-profits walk that fine line to get their message out and do it well and do it effectively.
Q: Who has inspired you in regards to doing work for the public good and why?
A: Frankly, the people who work at the non-profit inspire me. Now that I'm on the designer side and am working to help promote the non-profit and to figure out what resources they need, I've seen it's a "wear your heart on your sleeve" 24 hours a day kind of job, and sometimes a little thankless. So it's the folks that are still actually doing it that work in the community and are reaching out that are making the connections, those are the people that inspire me to do it.

Q: Do you feel your design work has impacted society and if so, how?
A: I hope it has, I hope that the thoughtfulness that I put into it is felt on the other end. I hope I'm not making landfill—that's my ultimate hope.

Q: Are there clients that you would not accept because of moral or ethical reasons?
A: I would never work for a cigarette company. I would like to say I would not necessarily do work for an oil company, but I have worked for Chevron and that was very conflicting for me, actually. I wouldn't do work for a gun manufacturer or a bullet manufacturer.

Q: What clients would you love to work for?
A: The things I think that we should continuously talk about are HIV prevention. I worked in the field earlier and I know some people who have been doing it and I think it's amazing just to keep it in the public eye. I think that's really important, awareness and education. I think promoting the fact that health care is not available in other places in the same way that it is here, specifically Africa, is important. Funding can make someone's life entirely different.