Combat Paper
By Ella Rue
Illustrations and Photographs Courtesy Printmaking Center of New Jersey
Fatigues Photographs by Ella Rue
Article first appeared in UCDA's Designer magazine (Vol. 37, Issue 1, Spring 2012)
Combat Paper logo art
by David Keefe
But who then stands ready to take care of those men and women upon their return when they are all too often disabled, disillusioned, or disheartened? They leave and time has a way of standing still. Their loved ones expect the same person to return, the same happy-go-lucky, gregarious person that they saw off to war so many months before. But night terrors and haunting memories often plague vets upon their return. You cannot un-ring a bell, and you cannot un-see the sights of war.
Combat Paper New Jersey, now housed at the Printmaking Center of New Jersey (PCNJ), is looking to help do their part to help take care of returning vets by means of therapeutic art. By shredding their uniforms, fatigues, and war mementoes and creating paper to then create art upon veterans are slowly healing. Survivors of both long ago and recent conflicts alike are channeling their experiences, anguish, and frustrations into this cathartic and curative artistic process, and ultimately creating therapeutic and healing artwork. The intent of Combat Paper New Jersey is "to build a supportive community of veterans by deconstructing, reclaiming, and communicating our military experiences through art."
The Tragic Reality
A sobering statistic published in the National Journal in December 2011 indicates that 18 young American veterans commit suicide each day. Thousands more find themselves unable to resume the daily activities of their lives before deployment. In any given community, young veterans are struggling with the residual effects of their combat experience. They often struggle alone because there are few services in our towns and cities that bring young vets together so they can talk openly about their experiences with, and receive emotional support from, the only people who fully understand their pain—other veterans.
But it is ultimately our collective responsibility, as a society, to help returning veterans overcome their challenges; move on with their lives; fulfill the dreams they set aside so that they could serve our country; and ultimately be whole again so they can assume the role of good spouses, good parents, good neighbors and good citizens – a status they so desperately want for themselves, and we all so desperately want for our sons, daughters, brothers, sisters, neighbors, spouses, and friends.
Combat Paper was founded in Burlington, Vermont, by Drew Cameron. Over the past three years the project has been hosted by academic institutions and community art centers throughout the country, including Harvard University, St. Lawrence University, University of Wisconsin, United Kingdom Arts Council, University of North Carolina, and the New Jersey Vietnam Veterans' Memorial Foundation, among dozens of other venues. Some of the handmade paper art created by veterans during the touring project are now in the permanent collection of major institutions, such as the Library of Congress, Paley Library at Temple University, Princeton University Library, and Langston Library, University of California Irvine.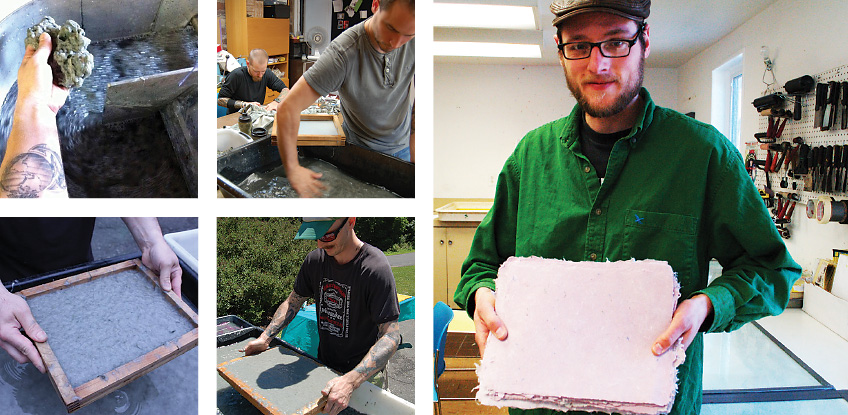 Clockwise from top left: Dave Keefe with paper beater; Eli Wright (left) cuts his combat fatigues, Dave Keefe (right) mixing pulp; Nate Lewis holds a stack of dried combat paper; Jesse Albrecht pulls sheet of combat paper; Jesse Albrecht uses pulp spray to silkscreen image onto wet combat paper
In the summer 2010 the PCNJ, located in Branchburg, New Jersey, hosted a week-long Combat Paper workshop. It was an emotional week of art-making, creative writing, and, most importantly, camaraderie, which is ultimately curative. Participating veterans were deeply moved by the experience. While several who participated were local, Jesse Albrecht rode his motorcycle 1,000 miles from western Indiana to participate in the session. As a result of this Combat Paper workshop Jesse is now actively working to reclaim his life. The following testimonial reflects Jesse's state-of-mind before his week at PCNJ:
In Iraq the mortars, rockets, and gunfire were ever-present. Violence and death were all around us. But when I got home the wholesale changes that allowed me to succeed in my work with convoys and security—betrayed me here. I had loaded guns near to help me feel safe at night and carried knives because I was convinced the enemy was going to jump the wire again. Nightmares sent my girlfriend into the spare bed so I didn't punch her in my sleep. I lost feelings of joy in most activities and interactions with people, and I used alcohol and drugs to celebrate coming home alive, and also to mask the changes in me. I began to realize that the residue and memories of war wouldn't just wash away, and the person I was pre-war now was only a ghost.
In reflecting on the Combat Paper week at PCNJ, Jesse writes, "When I heard of Combat Paper through a mutual friend I thought, OK, whatever, big deal. But shortly after meeting Drew and Drew and JT, I knew there was something powerful going on. Being with those who have shared combat takes the edge off. I can talk about all the crazy things I do and have done since Iraq—things that are my "new normal," and fellow veterans understand. Conversation naturally flows in and out of technical questions about making paper and at times into war stories and coming home. Cutting up the uniform can be done with either reverence or anger. It allowed me to take charge of an experience I had little control over, through making a piece of paper, which is something we all can relate to."
Clockwise from top left: Prints by Jesse Albrecht; Prints by Jesse Albrecht; Jesse Albrecht at Letterpress; Combat Paper logo letterpress by Eli Wright; Jesse Albrecht pulp spraying
Through the generous support of the local Rotary Club and with guidance from Combat Paper founder Drew Cameron, the Printmaking Center now provides ongoing, weekly Combat Paper sessions by opening its doors to veterans every Sunday. They don't beat their swords into plowshares, instead they carefully choose their military fatigues, or other symbolic cloth from wars they were a part of, and cut them into postage-stamp size pieces and put them into a machine called a Hollander beater, which pulverizes the fiber into pulp and converts it into heavy paper. The process not only coverts fatigues to paper, it offers a curative moment for the soldiers as they feel a sense of home among their fellow soldiers.
After spending a Sunday morning with some of the vets who currently administer this program, I was afforded a brief peek into their experiences and their burning desire to not only heal but also to help other vets heal. They cut rag, they explained the experience of Combat Paper, and they allowed me to experience, if only for an instant, the feeling of tearing up a soldier's uniform. (To "cut rag" is the term the vets use to shred their fatigues. They rip, and tear an shred the material that contains the painful memories of combat.) I thought it might somehow feel irreverent. My son is currently serving a second tour overseas in the Army. I thought it might feel somehow disrespectful, but instead it felt cathartic, even for me, a mother of a soldier. I can only imagine the feelings the vets feel as they tear, and rip and cut their old uniforms, but for me I was flooded with memories of my son as a child. Dave Keefe, who is the director of the Combat Paper program at PCNJ, and also a vet, told me that as he cuts rag he often has feelings, memories, smells, mental images that come rushing back to him, things he hadn't thought of in a very long time. It comes back in pieces, much like the postage stamp shreds of the uniforms.
Left: Camp Delta Standard by Chris Ardent. Right: Breaking Rank by Drew Cameron
It starts with coffee and bagels and moves on to cutting rag. Introductions are made and experiences are shared. It's a mandatory sit-down time… they all sit down together, they all cut rag together, and they all share stories together. This is the start of every Combat Paper workshop. It is said to be much like breaking bread as a family; exploring experiences, and recalling memories. Once the uniforms are cut they are thrown into the Hollander beater, which pulverizes the cloth, which will ultimately be used to make the paper. Once the paper is created they then create artwork. Printing can take different forms; from silkscreen, to plexiglass etchings, to drypoint printing, linocut, zinc plate printing, to pigmented pulp sprayings. Some of the vets have created journals that they either write in or print their thoughts on. They would like to be able to do photo etching and lithographs on the combat paper as well, which will open up numerous other possibilities to vets with little or no artistic experience as they will only need photos to reproduce. It offers a good deal of room to explore.
Left: Photoetching of the author's son, Justin Eyet, getting his sergeant stripes. Right: Dear Saddam by Jesse Albrecht
Combat Paper is a program that offers a way to help heal the wounds of war. No one understands a vet's experience quite like another vet. The brotherhood of combat is engrained in the vets with a feeling of safety in sharing. They know they will not be judged as they share their experiences. There are no prerequisites, except military service. No prior artistic knowledge needed. They are often amazed at what they find themselves creating. From combat uniforms art is created, from a shared mutual experience healing happens.
For additional information about the Printmaking Center of New Jersey, and to Like Combat Paper New Jersey on Facebook, please visit www.printnj.org.